Beacons Way
For our full range of self-guided routes, see our Self-guided Walking Holidays.
This route is also available as a Guided Walking Holiday.
Legend
Cycling
Walking
Number of nights
Difficulty level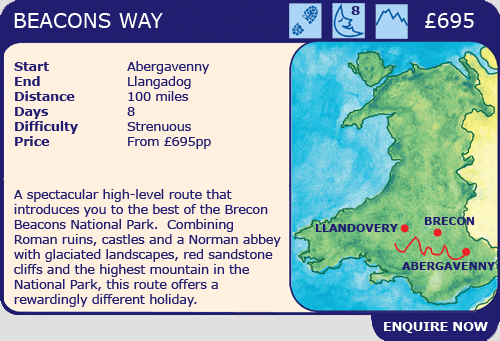 A self-guided walking holiday along the Beacons Way makes for a fabulous week-long introduction to the Brecon Beacons National Park, and the stunning landscapes of Wales. Tackling a long-distance route at your own pace provides both challenges and rewards, and this high-level route is one of the best in Wales.
This Welsh walking holiday is the ideal choice is you are a confident walker, preferably with some experience of basic navigation. We do provide detailed route notes and maps, but be aware that some sections of the route involve following a compass bearing over open ground. We don't tie you to set departure dates, leaving you free to choose when you would like to begin your walking adventure.
Here's what we include on the Beacons Way self-guided walking tour:
Pick-up and drop off at Abergavenny and Llandovery railway station at the start and end of the tour.
8 nights accommodation in quality B&Bs and guesthouses.
Daily luggage transfer, so you have plenty of breath left to enjoy the views!
Emergency vehicle back-up
Custom maps, highlighting the Beacons Way, as well as alternative routes in case of poor weather.
Comprehensive route notes, providing background information on flora, fauna, geology and history.
First aid kit
All photographs Crown Copyright 2006 unless stated