SELF GUIDED CYCLING
If independent travel is your thing, but you don't want to compromise on comfort, opt for a self-guided cycling holiday.
You decide on the departure date, rather than being tied to a fixed timetable. What is included on a self-guided tour?
Accommodation in quality B&Bs and guesthouses.
Luggage transfer, so you don't have to weigh the bike down with your bags.
Custom maps, with your daily ride highlighted.
Route guide including directions and background information.
Comfortable, lightweight hire bike. Alternatively - Electric Wales! You can now choose to ride any of our cycling holidays on a top-of-the-range electric bike.
Handlebar bag, cycle computer, first aid kit, lock and water bottle.
Pick-up and drop off at the nearest railway or bus station at the start and end of the tour.
Choose a route
Click on a tour name to see the details and map displayed below. Please note that pricing is indicative only, for up-to-date pricing for your specific dates, please contact us.
Legend
Cycling
Walking
Number of nights
Difficulty level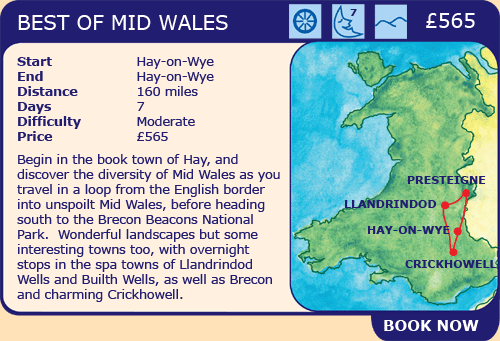 Best of Mid Wales Self-Guided Cycling Holiday | Black Mountains Triangle Self-Guided Cycling Holiday | Valleys and castles Self-Guided Cycling Holiday | Heart of Wales Self-Guided Cycling Holiday | Llanthony Priory Self-Guided Cycling Holiday | Landscapes of Powys Self-Guided Cycling Holiday | Lon Las Cymru Self-Guided Cycling Holiday | Lon Las Cymru South Self-Guided Cycling Holiday | Radnor Ring Self-Guided Cycling Holiday | Taff Trail Cycling Holiday | Four Castles Self-Guided Cycling Holiday | Tandem Cycling Weekend Break
All photographs Crown Copyright 2006 unless stated